Autumn Colours: Guided Tour of Perthville Convent Heritage Centre
April 17, 2021 10:30 am - April 17, 2021 12:30 pm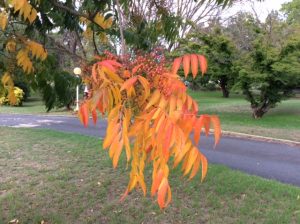 Commence your leisurely tour with morning tea in the Sisters' Dining Room. Enjoy a visit in the historic 1872 Perthville Convent Heritage Centre. Visit the Chapel, tour the original rooms of the old Convent and learn the story of the Sisters told in storyboard, displays and memorabilia. See the Founders Room with the Reg Campbell painting of Fr Julian Tenison Woods and St Mary MacKillop. Visit the Sisters' Cemetery, where over 200 Sisters who contributed to education throughout the Bathurst Diocese rest in peace.
Cost: $15 per person.
Bookings: Bathurst Visitors Information Centre 1800 68 1000
Location: Tenison Woods Avenue, Perthville.